BEAKEY
Regular price
Sale price
$29.99 USD
Unit price
per
Sale
Sold out
Specifications
| | |
| --- | --- |
| Brand: | BEAKEY |
| SKU: | WAT-0059 |
| GTIN/UPC: | 781159575075 |
| Assembled Product Weight: | 0.441 lb |
| Assembled Product Dimensions (L x W x H): | 6.77 x 4.84 x 1.34 Inches |
Product details
BEAKEY jade roller and Gua Sha set is designed for everyone who wants to stay healthy and young. Made from Rose Quartz, the famous stone of love. Legend has it that it emits a strong emotional healing vibration, increasing self-love, friendship, healing and inner peace. Treating yourself at home with traditional oriental massage therapy can help reduce puffiness, improve facial contours and help you move more easily into a relaxed and calm state of comfort.
The Jade roller have a noiseless design with smooth surface and sturdy construction, heart shaped Guasha tools fit the face and body lines, they provide you with a quieter and smoother skin massage, thus helping you to relieve muscle tension and tighten the skin leaving it feeling energised.
You can chill your facial jade roller and Gua Sha in the fridge for about 10 minutes before use, which will help reduce morning puffiness and refresh your skin. You can become a home self-care expert too :)
Reduce Puffiness: BEAKEY jade roller works by providing a cooling sensation on skin, firming skin and reducing puffiness. It's soothing on face.

Relieve Dark Circles: Jade roller helps maximize the absorption of the moisturizers and help reduce the appearance of fine lines and dark circles.
Lift Your Face: You can use Gua Sha to shape your jawline and cheekbones and easily work it into your routine especially if you already use a face oil.
Brighten Complexion: Regular and correct use of jade face roller and Guasha can help to stimulate circulation and tighten pores. Help you to relax and calm the muscle tension.
Gift Packaging: The beautiful carton packaging makes our products particularly exquisite. Here is the great gift for mom, wife & friends.
Instructions
Instructions for Use of The Jade Roller
Use the big face roller on your chin, forehead, cheeks and neck. Start in the middle of the face and roll upward and outward. Move from the neck and roll upwards across the chin.
Use the small roller part under the eyes and around the nose. Roll the face roller massager in an upward and outward motion.
Instructions for Use of The Guasha
The flat jade stone that has curved sides is gently pressed along your face, moving upward and outward. Guasha can also be used for your larger muscles, such as areas on your shoulder.
Using the flat surface of the jade to apply a cold compress helps relieve pain and swelling.
Tips
Product packaging may vary due to production batch.
It is recommended that you clean your facial jade roller and Gua Sha before and after each use and wipe with a soft cloth.
Please be careful when using it to avoid dropping it. Best stored in a box when not in use.
Share
View full details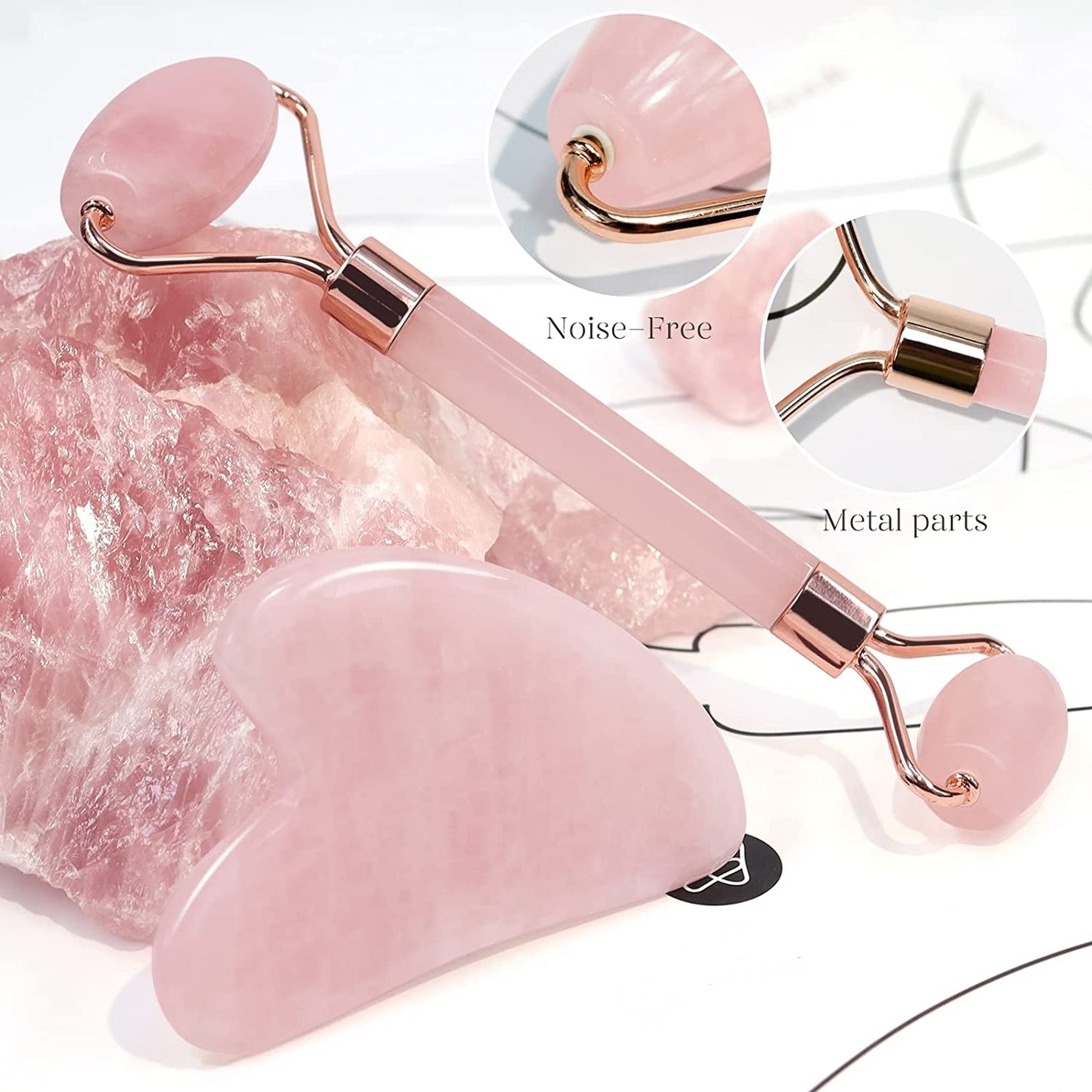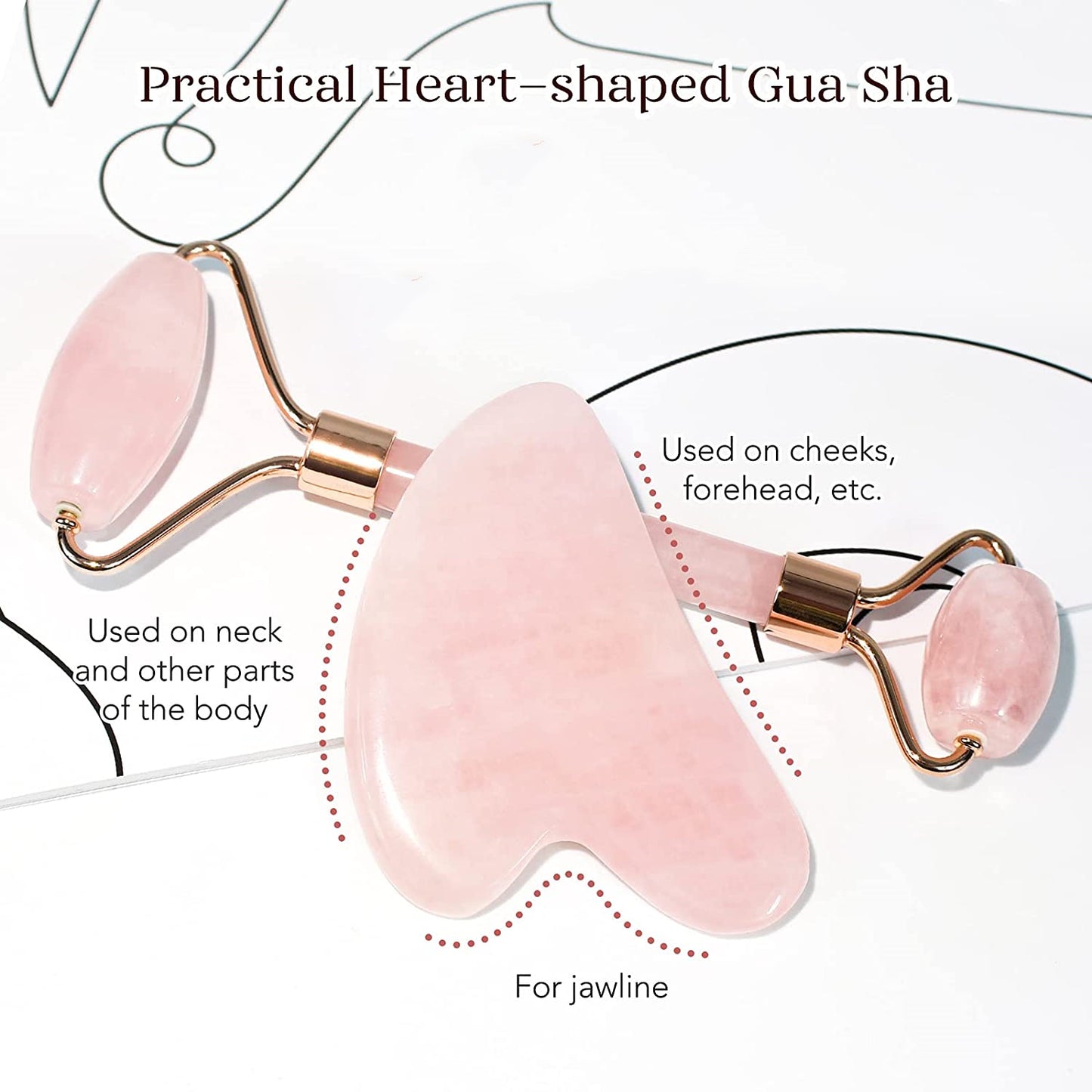 Self Care at it's Best
it has helped me tremendously! Thank you
Love this
Looks like it will last a long time
I have been using the product for over a week and the product works amazingly well
I love the way my skin feels after using it and it's affordable for people who can't afford expensive products that work well.
It's ok
Although the material and construction of the Jade roller seems cheap, it has been very durable. and it wasn't too expensive.