BEAKEY
Regular price
Sale price
$20.99 USD
Unit price
per
Sale
Sold out
Specifications
| | |
| --- | --- |
| Brand: | BEAKEY |
| SKU: | W-0022 |
| GTIN/UPC: | 197644068043 |
| Assembled Product Weight: | 0.397 lb |
| Assembled Product Dimensions (L x W x H): | 7.60 x 3.31 x 1.73 Inches |
Product details
BEAKEY ice roller is an innovative product that combines traditional massage methods with modern technology. The icy touch physically cares for the skin, you can roll the frozen ice roller slowly over your face, neck and body parts to provide a long-lasting cooling sensation, help reduce puffiness, relieve pain and awaken the skin's vitality. Can be used by all skin types.
The Guasha is made from Xiuyan jade, smooth and beautiful, it is shaped to fit the curves of the body's skin and can be used for muscle relaxation on the face and body, to help contour the jaw, and in combination with essential oils to help firm the skin and improve the appearance of fine lines.
Before use, place the Facial Jade Roller and Gua Sha Scraper in the freezer for 10 to 30 minutes so that the cool sensation of the tool lasts longer. You can use the Ice roller Gua Sha set with your skincare products, you can become a home self-care expert :)
Reduce Puffiness: BEAKEY ice roller will provide a cooling sensation on skin at least 30 minutes. It's soothing on face, firm skin and effectively reduce puffiness.

Calm Redness: Using the cold face roller boosts blood circulation, it's great for temporarily reducing redness after sunburn. It can work as a ice bag to calm your skin.
Relieve Migraine: Using ice roller to apply a cold compress to your head or neck can help reduce pain. Gentle massage also helps on muscle tensions.

Lift Your Face: The Gua Sha in the set will help you shape your jawline and cheekbones, and can be easily work it into your routine self care especially if you already use a face oil.
Gift Packaging: The beautiful carton packaging makes our products particularly exquisite. Here is the great gift for mom, wife & friends.
Instructions
Instructions for Use of The Ice Roller
Use the ice roller on your chin, forehead, cheeks and neck. Start in the middle of the face and roll upward and outward. Move from the neck and roll upwards across the chin.
The frozen ice roller can be slowly rolled over other parts of the body that need massaging, such as arms and legs, etc.
Instructions for Use of The Guasha
The flat jade stone that has curved sides is gently pressed along your face, moving upward and outward. Guasha can also be used for your larger muscles, such as areas on your shoulder.
Using the flat surface of the jade to apply a cold compress helps relieve pain and swelling.
Tips
Product packaging may vary due to production batch.
It is recommended that you clean your facial ice roller and Gua Sha before and after each use and wipe with a soft cloth.
Please be careful when using jade skin care tools to avoid dropping them. Best stored in a box when not in use.
Share
View full details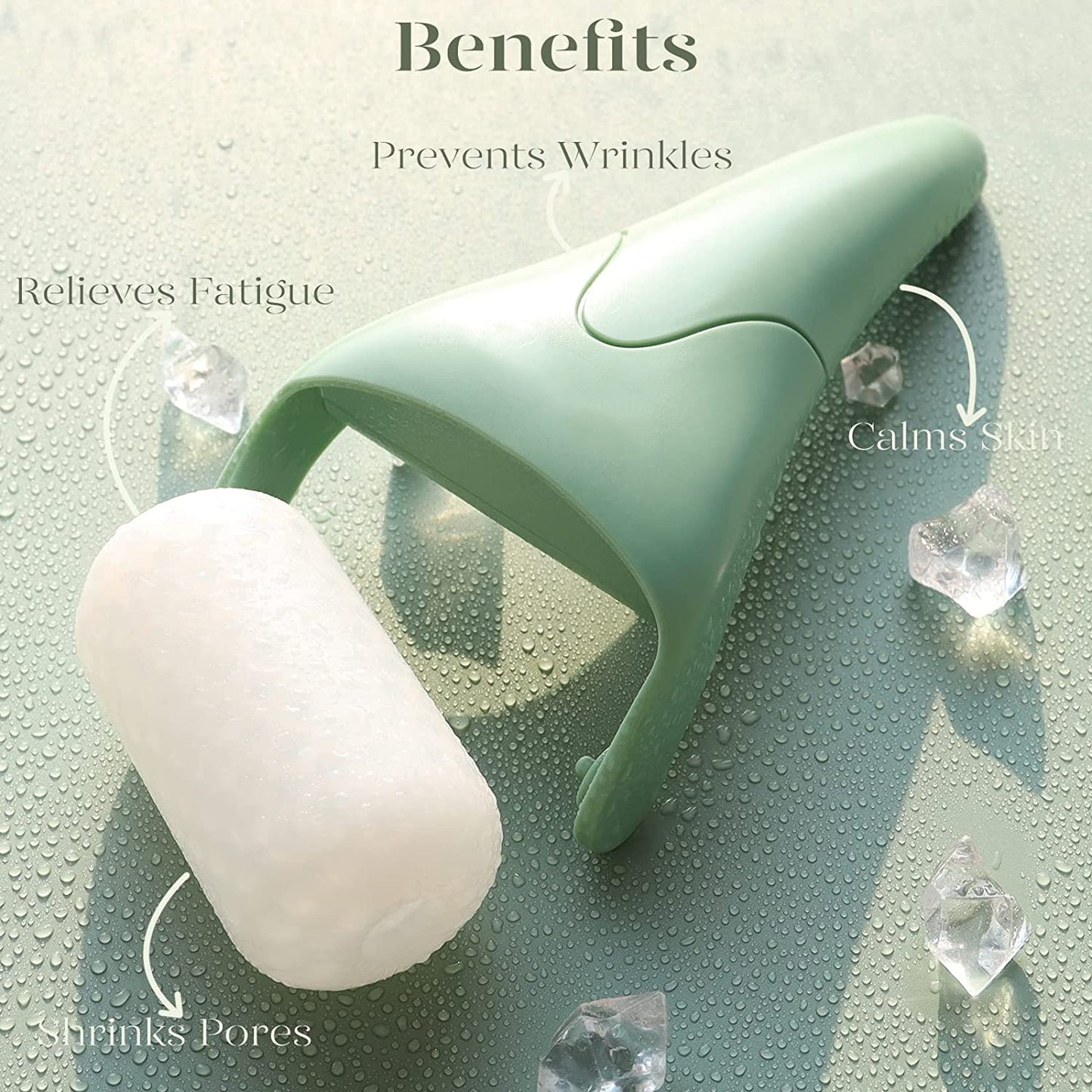 Like it
I love using ice rollers. my favourite thing about the ice roller is how refreshing it is to use in the morning.
I don't know if it works but if it does, I'll update my review.
Everybody needs one of these
It doesn't make a squeaky noise, I keep it in the freezer of my mini fridge and feel like I can pick it up and use it
Glowy skin
I've used it during migraines with great results!
Facial
I couldn't live without it! Feels great