BEAKEY
Regular price
Sale price
$9.99 USD
Unit price
per
Sale
Sold out
Specifications
| | |
| --- | --- |
| Brand: | BEAKEY |
| SKU: | WAT-0345-2 |
| GTIN/UPC: | 601263952138 |
| Assembled Product Weight: | 0.044 lb |
| Assembled Product Dimensions (L x W x H): | 7.48 x 5.51 x 1.38 Inches |
Product details
This set contains 6 BEAKEY powder puffs for your use and replacement needs. The powder puffs are sized to fit comfortably in your hand for precise application. The rounded edges of the puff are perfect for flat areas such as the cheeks, forehead and neck. The triangular edges can be used in T-shaped areas, such as around the nose and eyes, for dead-free makeup application. The short, fluffy bristles hold the powder well for a flawless look while saving money on makeup.
The super soft sponge is wrapped in special velvet for comfortable use and is suitable for all skin types, including oily, dry, normal or combination skin. This powder puff can be used not only as a face puff, but also as a body puff or bath puff for neck, legs and other areas according to your personal preference.
Practical Design: BEAKEY powder puff is designed with triangle and circle styles. The pointed tip and rounded sides to reach those tricky corners and a rounded side for larger areas. Each powder puff comes with a strap, ensuring a secure grip and making it easier for you to use. Say goodbye to uneven application.

Premium Material: Our triangle powder puff is made of special velvet and soft sponge, providing a smooth and comfortable touch during use. The short velvet ensures that it grips the powder well and prevents it from being wasted, resulting in a smooth and efficient makeup application.
Widely Applicable: The true versatility of BEAKEY makeup puff is demonstrated in its ability to adapt to your makeup preferences. For powder-based products, it works great when dry, while for cream or liquid-based makeup, simply dampen the puff for an even and flawless finish.
Durable & Easy to Clean: Our beauty puff is machine washable and hand washable, not only convenient but also durable for long term use.
Tips: It is recommended that you wash the powder puff before first use to remove velvet debris. Proper care is to clean it after each use and dry it in a ventilated place.
Instructions
Dry & Wet Dual-use
Dry Puff: Suitable for powder makeup, such as blush, loose powder, highlighters, etc.
Wet Puff: Perfect for liquid makeup, such as BB cream, concealer, liquid foundation, etc.
How to Clean
Wet BEAKEY powder puff with warm water.
Add appropriate amount of cleaner, gently press and rub it until foaming.
Rinse and squeeze out excess water, use a clean towel if necessary.
Air-dry it in a well-ventilated area.
Share
View full details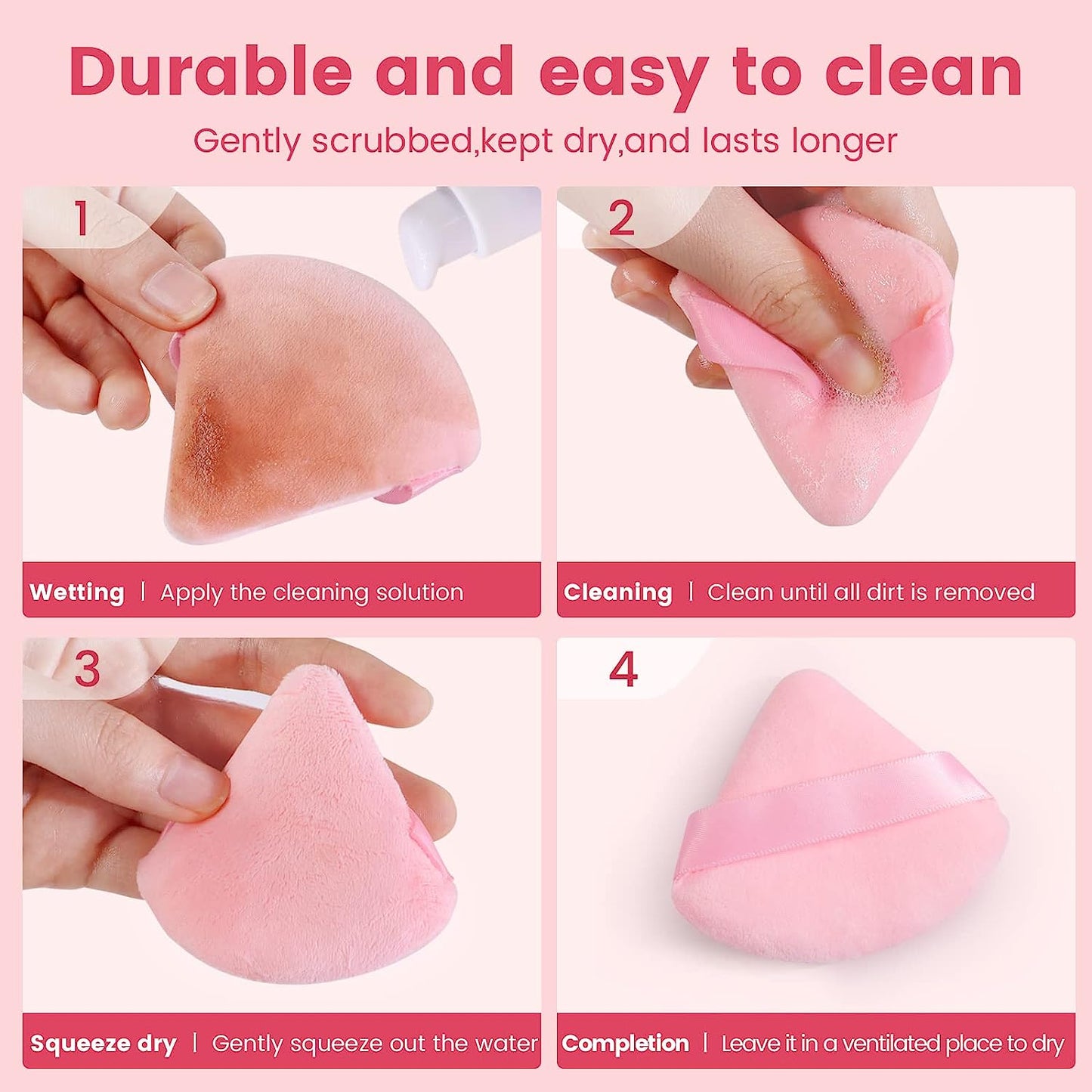 The quality is excellent and they come in a small plastic case for easy storage. The workmanship is not cheap at all and they are very soft. I can't rave enough about these products. Great product.
cheap and effective
These sponges are thick and soft and feel great on my face.
Great for price
These puffs set my under eye makeup perfectly. There's no creasing and it also gives me a more natural skin tone.
Very soft
These sponges are so perfect it took me a long time to get them even though I had a voucher.